J067 DANCE SQUAD SEPARATES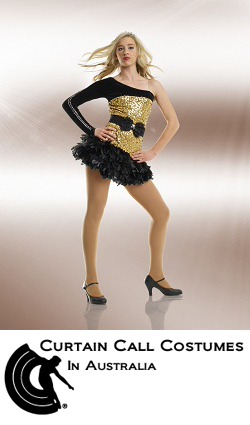 (Red, Green, Blue or Gold)
Asymmetrical front lined sequin poly/spandex and stretch velvet top with crystal embellishment.

S1507 Feather Skirt - Black nylon/spandex skirt with attached nylon/spandex briefs and feather trim.
(CXS – 3XL)
Curtain Call Costumes Australia
Unveiling Australia's largest range of dance costumes, across all dance genres
- On Time Shipping
- Cutting Edge Designs
- Incomparable range of fabrics
- Exceptional Value
- Excellent Customer Service
- Recital Ready Packaging
- Huge range of Accessories
Check out our Super Value and Great Low Price ranges!
Full range of sizes CXS – 3XL
Your performance IS OUR PASSION!
2 Epsom Rd Zetland NSW 2017
Tel. (02) 9663 4166
info@clash.com.au
www.facebook.com/CurtainCallCostumesAus www.curtaincallcostumes.com.au