AMDA COLLEGE AND CONSERVATORY OF THE PERFORMING ARTS BACK

Course
Bachelor of Fine Arts in Dance Theatre
Dance Theatre Conservatory Program
AMDA Dance Theatre develops adept and versatile
dancers for theatrical, commercial and concert
performance. Grounded in classical technique,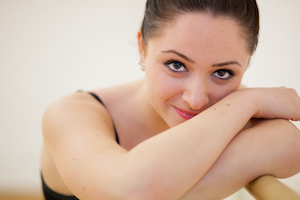 the Dance Theatre programs also include
focused studies in a variety of dance styles and disciplines (e.g., contemporary, modern, tap, musical theater, hip-hop and partnering), as well as acting, voice, improvisation, and other essential performance skills.
Dancers have the tremendous professional advantage of training at both AMDA campuses—New York City and Hollywood—learning from teachers and guest artists that create and perform here today. AMDA offers two educational paths: a four-semester Conservatory Program that transitions dancers swiftly into the industry; and an eight-semester Bachelor of Fine Arts degree that encourages further self-exploration and discovery.
Both AMDA programs provide rigorous conservatory training—graduating skilled, adaptable and marketable dancers.


Download the course catalog: www.amda.edu/downloads
See videos on AMDA, the campuses, dance performances and more: www.amda.edu/videos
Course Details
Bachelor of Fine Arts Degree in Dance Theatre: Students can complete this eight-semester degree in four calendar years or fewer than three calendar years without semester-long breaks. Students are awarded a Bachelor of Fine Arts degree upon completion.
Dance Theatre Conservatory (Theatrical, Commercial and Concert Dance): Students can complete the four-semester professional conservatory in two calendar years or as little as 16 months without semester-long breaks. Students are awarded a certificate upon completion.
Both curriculums provide daily regimens that improve strength, stamina and artistry. Additionally, dancers learn to blend seamlessly precise technical choreography with individual, interpretive storytelling.
AMDA creates an environment where students develop the skills, confidence, imagination and power to contribute to their community as artists, entrepreneurs, visionaries, lifelong learners and conscientious citizens of the world.
Main Subjects
Ballet, Modern, Contemporary, Jazz, Tap, Hip-hop, Core Techniques, Acting Fundamentals, Musical Theatre Fundamentals, Singing Technique, Dance Theatre History, Health and Wellness, Dance Theatre Project, Dance Audition Techniques and Combinations, Industry & Networking
Main Teachers
New York: Michelle Bruckner, Casey Colgan, Billy Johnstone, Robin Levine, Nic Thompson, Jena Van Elslander
Hollywood: Nicole Berger, Michelle Elkin, Adam Parson, Rob Rich, Daria Tortova, Chryssie Whitehead
AUDITION DETAILS

Please visit the AMDA website to check for upcoming Sydney and Melbourne audition dates: www.amda.edu/AUDITION-SCHEDULE

Sydney Auditions: Sunday, August 30

Melbourne Auditions: Sunday, September 6

Reserve your Audition Spot for Sydney or Melbourne today here.

Video Audition Submissions: www.amda.edu/VIDEO-AUDITION

Global Audition Dates and Cities: www.amda.edu/AUDITION-SCHEDULE
Contact
Visit the AMDA website or contact AMDA by phone or email:
Phone: +1 212 7875300
Email: admissionsAMDA@amda.edu
Online Application: www.amda.edu/Apply-Online