BRENT STREET BACK

Courses
Brent Street is a registered training organisation (RTO #91488) which offers a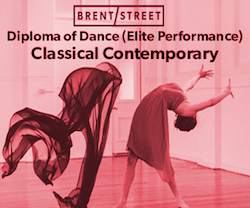 well-respected training ground for those after a career in the performing arts industry. Delivering the best performing arts tuition in Australia for nearly 30 years.
Nationally Recognised Training Courses:
CUA50113 Diploma of Dance (Elite Performance) – Classical Contemporary
CUA50113 Diploma of Dance (Elite Performance) – Performing Arts
CUA50213 Diploma of Musical Theatre
Brent Street Academy


Course Details
Diploma of Dance – Classical Contemporary: a technically diverse course is based around the demands for highly skilled classical contemporary dancers across the international contemporary company industry.

Diploma of Dance – Performing Arts: This is Brent Street's signature performing arts training program (prev a Cert IV & now offered at a Diploma level) which develops skills required of performers to work in the musical theatre & commercial dance industries.

Diploma of Musical Theatre: gives aspiring musical theatre professionals the best possible preparation for a career in this demanding industry. The Diploma is a full-time, one year intensive program focused on musical theatre technique & performance at an elite level.

Brent Street Academy: a full-time Pre-professionals' Program for school-aged students who display exceptional talent in the performing arts combined with a commitment to completing year 12.

Main Teachers
Lucas Newland, Darren Mapes, Teneill Wilson, Lynsey Waugh, Lisa Callingham, Cameron Mitchell, Bec Morris, Stephen Tannos, Cat Santos, Kate Wormald, Danielle Kyneur, Alice Robinson, Mitchell Woodcock, Darren Yap, Lauren Hustler, Mitchell Dellevergini, Deone Zanotto, Rani Luther, Ellen Simpson, Mark Hill, Talia Fowler, Bev Kennedy, Josh Anderson, Saskia Smith, Valerie Bader, Rob McLean, Dave McLean, Natasha Window, Jennifer Peers, Cassandra Bartho, Ryan Gonzalez, Matt Ogle, Paris Cavanagh, Kino McHugh, Sally Hare, Kiara Gregory, Peta Anderson, Matt Gode, Robbie Kmetoni, Stephen Perez, Natalie Ayton, Omer Backley- Astrachan, Anja Mujic, Fetu Taku, Mitchell Turnbull, Eden Petrovski and weekly Australian and International guests.
AUDITION DETAILS
We are currently taking Private Auditions and Online/DVD Submissions. You first must submit your information online and we will contact you to ascertain your suitability to audition. We will then email you with further information about the course and provide you with the application form and information about the audition process. Please contact us for further audition opportunities later in the year we may have available.
Reception
Brent Street (Entertainment Quarter)
Building 101
122 Lang Road
MOORE PARK NSW 2021
Phone:1300 013 708