LEFT LEG STUDIOS - MELBOURNE BACK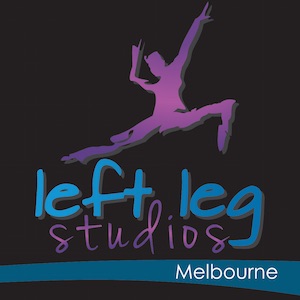 Course
CUA50213 Diploma of Musical Theatre (DMT)
Full Time Course accredited through Swinburne University
Pre-Professional Program (PPP)
Part Time intensive training program, 12 hours of training a week in all facets of dance and performing arts suits ages 14-20.

Course Details
Left Leg Studios offers excellent tuition in a nurturing, creative and safe environment, focusing on preparing students for professional opportunities in the Performing Arts &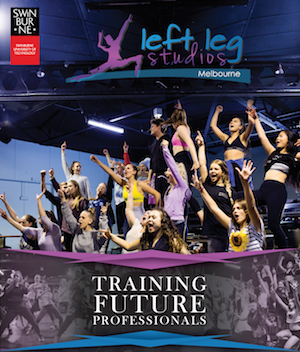 Entertainment Industry. They keep their class sizes small, and have some of the very best teachers in the country. "We are very fortunate to have the faculty that we do. The caliber of our permanent teachers as well as our guest teachers is definitely what sets us aside." LLS have designed their training to prepare the students for the professional market by mastering a broad ranging skill set, learning how to audition, and be a self sufficient, employable artist. "We want the students to enjoy their training as well as feeling that they have our total support and guidance for whatever their next step may be."
The Diploma of Musical Theatre Course is full time and is accredited through Swinburne University with 16 Units in total (810hours). Equal parts Dance, Acting and Singing tuition is a priority. On top of this students are provided with private singing lessons, fortnightly mock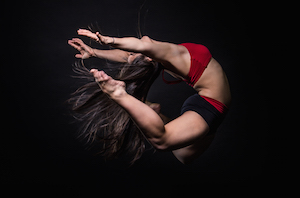 auditions in front of a professional panel, and assisted with audition repertoire and individual portfolios. The course also includes body-conditioning & anatomy, whilst incorporating an understanding of industry roles and expectations, with a strong emphasis on management skills and professional conduct.
The Pre-Professional Program is ideal for students aged between 14-20. They train for 12 hours a week with a variety of incredible teachers learning how to be self-sufficient and professional. The PPP also teaches students how to audition, how to take care of their bodies, and how to work in a team environment, whilst enjoying their training. Students are exposed to many disciplines that expand their skill set & turn them into versatile performers. Part Timers are given an individual vocal assessment each year, have professional headshots taken, and also perform in our Musical with the Diploma Students.

Main Subjects
Theatrical and Commercial Dance, Singing, Acting, Music Repertoire, Mock Auditions, Acro, Body Conditioning, Classical Ballet, Health, Nutrition & Anatomy, Production & Industry Relations.

Main Teachers
Directors: Tim McDowell, Brooke McDowell
Teachers include: Melissa Langton, Dana Jolly, Phillip Haddad, Michael Ralf, Matt McFarlane, Kelly Byrne, Jan Di Pietro, Mike Snell, Emily Paddon-Brown, Nicole Melloy, Kristin Keam, Mark Jones, Anna Burgess, Kiara Keiser
Guest Teachers: Roger Hogman, Kim Adam, Luke Hunter, Yvette Lee

AUDITION DETAILS

2nd October and 6th November
10 am at LLS
Register now through our Website

Contact
Tim McDowell: 0419 540 310
Brooke McDowell: 0400 594 558