NATIONAL COLLEGE OF DANCE BACK
CUA40113 Certificate 4 of Dance
CUA50113 Diploma of Dance (Elite Performance)
Intensive Training Program

Course Details
Producing outstanding results in the past 4 years with students completing both Diploma in Dance (Elite Performance) and Cert IV in Dance,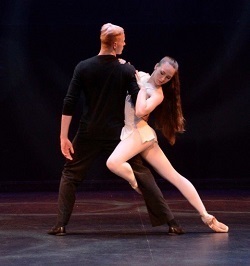 the National College of Dance are creating the future leading artists in Australia.
With both Cert IV and Diploma of Dance being 1 year full time programs, NCD have created the new Intensive Training Program for students in year 9 and 10 who wish to continue their educational studies but also complete intensive training in Dance studies. The intensive training program is a part time plus studies program specifically designed for each students to achieve Y9/10 but also become prepared to commence full time studies with the Cert IV or Diploma program.
The units covered reflect the aim of NCD, to provide unique professional training for students to allow them to achieve the dream of a career in Dance.
Over the past 4 years, all Diploma students have achieved either a place in a company, company school, overseas or in Australia, or into a university of choice.
Our outstanding results have seen our students compete in the 2014 Prix de Lausanne, win and finalist 2013 McDonalds Sydney Eisteddfod, 2013 issue of RAD solo seal, entrants into Genee and much more.
All teachers are professionals whom have had a career in professional dance, choreographed on professional companies coached and mentored professional dancers and have many years of teaching students to develop a career and become professional dancers.
Take the time to come a see our facilities, meet the teachers and Join our students as the next future leading Artists.

Main Subjects
Classical Ballet, Contemporary Dance, Repertoire in each of the afore-mentioned Units, Jazz Dance, Partnering, Choreography, Musical Theatre, Anatomy and Nutrition, Music Connection, Body Conditioning, Career Planning.

Main Teachers

Brett Morgan – Artistic Director – Australian Ballet, Sydney Dance Company
Timothy Gordon – international dancer, tutor, choreographer
Alfred Taahi – Sydney Dance Company
Debbie Ellis – Contemporary / Jazz – So You Think You Can Dance
Elise Frawley – RAD Classical Ballet Examiner
Zoe Jones – Award-winning Jazz teacher
Jenny Pickering – Music
Kim Hornby – Singing / Musical Theatre
Hannah Coleman – Anatomy and Career Planning

AUDITION DETAILS

Contact National College of Dance for audition date and time.

Commence with open ballet class including pointe work followed by open contemporary class. Solo showing of an established classical repertoire piece of work as well as a contemporary solo.

Bring ballet (including pointe shoes) and contemporary clothing, detailed resume of training (with photo) food and drink.

Application and medical documentation to be completed prior to audition.

DVD Auditions accepted upon approval from Artistic Director

Contact
Vicki Morgan
National College of Dance
Ph: 02 4952 9294
nc.dance@optusnet.com.au
www.nationalcollegeofdance.com