NEW ZEALAND SCHOOL OF DANCE BACK
Certificate in Dance Performance
Diploma in Dance Performance
Course Details
The New Zealand School of Dance (NZSD) is one of the Southern Hemisphere's leading dance training institutions. The School has an international reputation and is known for producing versatile and employable dancers.
The full-time programme prepares dancers for careers in dance performance.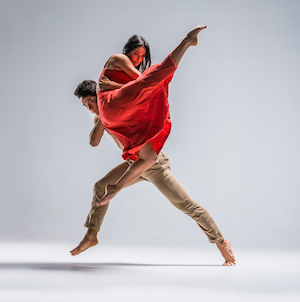 Students major in either classical ballet or contemporary dance, but maintain a strong base in both disciplines.
The NZSD has an outstanding faculty of teaching staff. Guest tutors and specialists in anatomy, dance history, nutrition, yoga and performance psychology round out the holistic training. The School's impressive purpose built facilities house five dance studios, a 160 seat theatre, library, Pilates/GYROTONIC® and physiotherapy areas, and a cafe. Students have access to a state-of-the-art gym with personal trainer and hostel accommodation. Secondment opportunities are available through the NZSD's excellent relationships with leading dance companies.
The NZSD is official school of the Royal New Zealand Ballet and is registered with the NZ Qualifications Authority (NZQA). Excellent opportunities are available through the school's relationships with leading ballet and contemporary dance companies. Most graduates enter careers in dance performance, around 75% receiving contracts with dance companies. Recent graduates are dancing with West Australian Ballet, Black Grace, Sydney Dance Company, The Royal New Zealand Ballet, Singapore Dance Theatre, Footnote Dance, Australian Dance Theatre, Chunky Move and the New Zealand Dance Company.
Main Subjects

The programme for classical majors consists of classical ballet technique, contemporary dance technique, pas de deux, repertoire, pointe, virtuosic coaching and stretch. The programme for contemporary majors consists of contemporary dance technique, classical ballet technique, partnering, improvisation, repertoire, yoga and choreography. Allied subjects: nutrition, yoga, Pilates, anatomy, music and dance history. Students also gain performance experience, and in the third year have opportunities for secondments and professional placements.
Main Teachers

Garry Trinder (Director), Paula Steeds-Huston, Christine Gunn, Qi Huan, Victoria Colombus, Nadine Tyson, Jarek Cemerek, and Turid Revfeim, plus international guest teachers throughout the year
AUDITION DETAILS

Auditions will be held in the following locations in 2016:
Wellington
Saturday 24 September 2016
New Zealand School of Dance
Te Whaea: National Dance & Drama Centre
11 Hutchison Road, Newtown
Wellington, New Zealand
Melbourne
Wednesday 28 September 2016
Victorian College of the Arts Secondary School
57 Miles Street
Southbank VIC 3006, Australia
Adelaide
Thursday 29 September 2016
TAFE SA
Adelaide College of the Arts
39 Light Square
Adelaide SA 5000, Australia
Brisbane
Saturday 1 October 2016
Australian Dance Performance Institute
31 - 33 Collingwood Street, Albion
Brisbane QLD 4010, Australia
Sydney
Sunday 2 October 2016
Sydney Dance Company Studio
The Wharf, Pier 4, Hickson Road
Walsh Bay NSW 2000, Australia
Contact
Phone +64 4 381 9252
Email dance@nzschoolofdance.ac.nz
Postal address:
New Zealand School of Dance
PO Box 7146
Wellington 6242
New Zealand
Photo: New Zealand School of Dance students photographed by Stephen A'Court.