VILLAGE ON BROADWAY BACK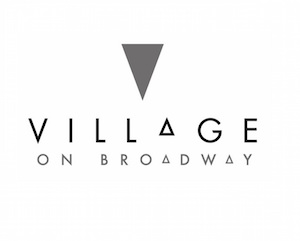 Courses
CERT IV IN DANCE (CUA40113)
DIPLOMA OF MUSICAL THEATRE (CUA50213)
PART TIME FULL-TIME (2 Years Cert IV)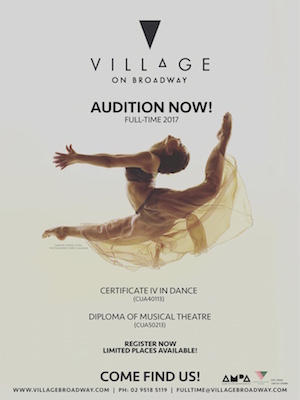 Course Details
Village On Broadway, founded in 2011, is committed to providing a Full Time course that guides, develops and mentors its students in an individual manner.

Created by Jacqui Howard and Wayne Aspinall, who wrote the first ever Cert IV Full Time Course in Australia over 20 years ago, the Village On Broadway Full Time course is unrivalled with strong emphasis on personal development both practically, mentally and emotionally to prepare the students for the rigours of the entertainment industry.
CERT IV
The Village Cert IV course is a one-year program intensive performing arts training course unique to the Village, covering all genres of the Performing Arts. All classes are taught by the country's best choreographers, directors, performers and teachers as well as specialty classes such as modeling, health and nutrition, audition technique and industry lectures. Students can choose to focus on Classical, Commercial Dance or Musical Theatre.

DIPLOMA
Village On Broadway's Diploma of Musical Theatre course is tailor made for those students who want to do a second year of Full Time training. The course focuses on extending students' performance skills whilst also training and educating them in the practical elements involved in preparation of a stage performance.

The students will also be tutored in maintaining peak physical levels throughout a repetitive performance schedule (such as in a professional musical theatre production) with training in vocal health, nutrition and body conditioning.

The Diploma of Musical Theatre is the perfect course from which to emerge as a true 'triple threat' performer.
PART TIME FULL TIME
Village On Broadway's Part Time Full-Time course allows you to do what you love and complete your Certificate IV in Dance while still undertaking your HSC.
Part Time Full-Time, established in 2013,
is available with or without an academic commitment. We will organise a personal timetable that suits your individual needs,
with the classes YOU want to do, with time scheduled for your academic work as required. You may choose to concentrate on Commercial, Contemporary or Musical Theatre, studying under the direction of Australia's leading industry professionals.
Main Subjects
Classical Ballet, Jazz, Contemporary, Hip Hop, Musical Theatre, Lyrical, Tap, Drama, Singing, Ballroom, SSC (Stretch, Strength, Conditioning), Acrobatics Boot Camp, Choreography, Nutrition, Audition Techniques, Silks and Performance Skills.
All Full Time students receive 30 hours of face-to-face tuition each week, between 8.30am – 3.30pm.
Main Teachers
Kelley Abbey, Marko Panzic, Matt Lee, Leah Howard, Jacqui Howard, Sonja Middelbosch, Jason Winters, Patric Kuo, Matthew Gode, Xtian Patterson, Euan Doidge.
AUDITION DETAILS
2nd of September 2016
Online scholarship applications open now.
4/85-91 O'RIORDAN STREET
ALEXANDRIA
Acceptance is via audition only. Auditions may be conducted at our group live auditions (dates above), through a private audition or an ONLINE video audition.
Contact
Email: fulltime@villagebroadway.com
Ph: 02 9518 5119
4/85-91 O'Riordan Street, Alexandria 2015
PO Box 7234 Alexandria 2015